Expertise you can count on, results you can Measure!!
Galactik is a Kenya (Nairobi) based creative agency specialized in providing market-oriented and web-based IT solutions including corporate website design and development, content management system (CMS), eCommerce solution, web application development and Digital online marketing i.e Search Engine Optimization (SEO), Search Engine Marketing (SEM), Content marketing & Pay-per-click advertising (PPC) . Our other services include interactive media design and graphic design.
Pricing
Why a website
Portfolio
Web Design & Development
At GalactiK we work directly with you to turn ideas into solutions. Whether it's a solo web page or an expansive, database-driven website, we specialize in developing your Internet presence anew or from an existing site.
Graphics Design
It is a well known fact that people tend to remember images more than plain text. After defining the concept and strategy of a brand, it is essential to develop visuals that graphically expresses it properly and help it stand out. We offer designs that Make a powerful statement in an impressive and professional way in Logo, flyers, brochures, business cards, company profile & banners designs.
Web App Development
Web app development is the creation of
application programs
that reside on remote servers and are delivered to the user's device over the Internet. Galactik IT has promising experts who are involved in Web based app developed & are happy to turn your ideas and business processes into a Web Application that looks great on ALL devices, not just a laptop.
Android and iOS App Development
We design, develop, and deliver extraordinary experiences for web, mobile, touchscreen, and smart devices for Android, iOS and Windows Systems. Our mobile apps offer an incredible user interface, are designed for maximum impact, and improve demand for your business. Stay ahead of the crowd. Get an app for your business today.
See examples
API and Web service Integration
Do you need to synchronize your site or web application with third-party platfroms? e.g
Facebook, Twitter, LinkedIn,
Paypal REST API,
Pesapal API,
Safaricom Mpesa API's (C2B, B2C, MPESA Express, B2B, Account Balance, Reversal and Transaction Status),
Quick Books,
Instant chat API's or any other API powered system? If yes, then Galactik IT is your solution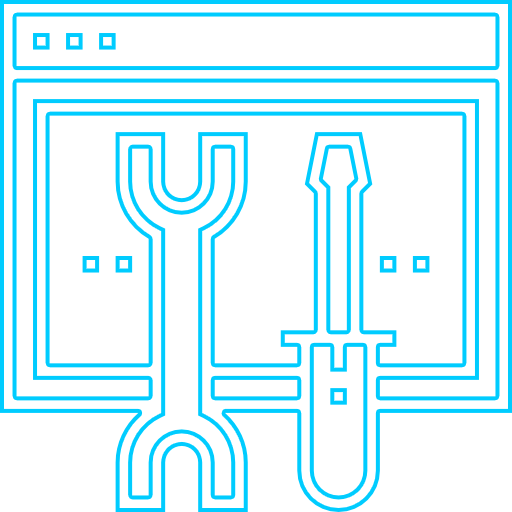 Website Maintenance
YOUR WEBSITE SHOULDN'T BE YOUR SECOND JOB
Today's informed consumer is able to quickly find your website and digital marketing presence to assess your credibility and whether you're worthy of their time and money. Don't lose conversions with a stale, broken, or vulnerable website. Let GalactiK maintain your website so you can focus on running your business. This includes redesign.
Responsive Web Design
Responsive Design is the art of
Web Design
and Development technique that creates a website that would adjust or adapt to the size of a user's screen. We are happy to say that we are among those agencies that have embraced this trend to bring you this impressive design technique
Search Engine Optimization
Your business is unique and has unique goals. That's why we carry a vast arsenal of digital marketing solutions to help you reach them. Is it quality website traffic you seek? With our content marketing and SEO Services, we'll get the right kind of visitors frequenting your website
Digital Marketing
Digital marketing is any form of marketing products or services, which involves electronic devices. In the realm of websites, 'build and they will come' is more than a cliche. It doesn't sync. You need marketing strategies to attract more customers for your brand, that's where Digital Marketing comes in the picture. At Galactik, we have proven strategies covering the sub domains of Search Marketing (SEM), Content Marketing, Pay-per-click advertising (PPC), Social Media Marketing (SMM), Affiliate Marketing and Email Marketing.
Customer Relationship Management (CRM) system
A quick and easy solution to manage your clients, projects and invoicing.
Key Features
Customers and Leads
Contacts, Addresses, Notes and Groups. Create new fields. Easily link everything under a Customer.
Website Management
Website Details, Invoice Subscriptions, Change Requests, RSA/AES crypto for Passwords and more.
Track Jobs and Quotes
Online Quote Approval, Job Task Discussions and Task Timer. Create and send a PDF Quotes. Record Job expenses.
Invoices and Payments
Send PDF Invoices. Accept payment via PayPal, Stripe & Authorize. PayPal subscription payments. Automatic overdue notices.


GPOS - Point of Sale Software
Simple User Interface
Products with taxes
Barcode and Label Printing page
Add customer without leaving POS Screen
Hold bills option to save it in open bills
Settings
Discount ( Add different discount to each sale)
Edit Product Price, Quantity, Sale tax and discount from POS
Check today's sales and load nay open bill without leaving POS Screen
Print or Email receipts
Barcode scanner/reader compatible.
Reports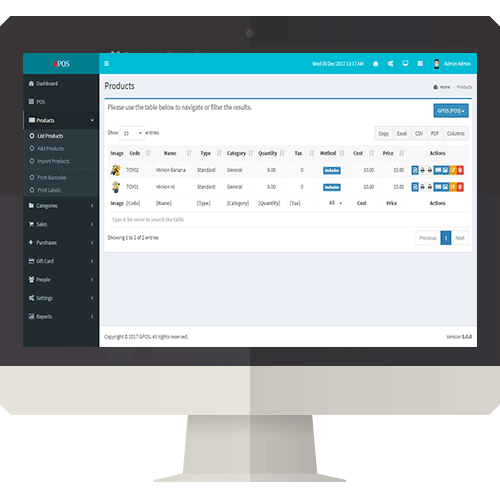 GInventory: Invoicing and Inventory MIS
Cloud based and Robust. Update your stock information, make purchases and view sales data from anywhere whether in the office, at home, in the warehouse, or on the go.
Inventory Management Solved
Key Features
Quick, Accurate, Validated
Prepare pick orders requisitions for inventory items to ensure the right product, right order, and right customer every time. Inventory and non-inventory purchased items and services can be consolidated on a single pick order and provided to inventory pickers to ensure order accuracy.
Purchase with a Purpose
Inventory and non-inventory purchased items and services can be consolidated on a single purchase order. Buyers can make decisions on purchase order quantities and due dates supported by price and delivery history for approved vendors.
Invoicing
Add, Edit, Delete and View - Manage
Streamline Ordering Process
Ginventory software provides critical, centralized process to control the management of ordering, receiving, and picking of both inventory and non-inventory items. One unified platform to manage your orders from all departments and channels, with instant status updates on both purchase and pick/sales orders.
GSchool - School Management Information System
Key Features
Manage Students
Manage & Track all students information e.g. Attendance, Marks, Exams, Database, Alumni, Hostel, Transport, Grading etc
Manage Teachers
Attendance, Class, Subjects, Holiday etc
Manage Parents
Database
Manage all stake Holders and system features
Students, Parents, Syllabus, Teachers, Hostels, Transport, Academics, Accounting, Communication etc
Bulk Communication with stakeholders
Send Email and Texts
Clinic/Pharmacy Management System
Key Features
Patients
Patient: EMR, Report Generation / Export to CSV/PDF etc, Billing History, Due Management, Pathology, History Management,Payments, Pharmacy Management
Stock
Stock Management and Stock Addition / New Stock analysis
Medicine
Pharmacy Patient Distribution Analysis, Medicine Audit, Pharmacy Stock usage Analysis
Pathology
Pathology Due Management, Pathology Agents Mangement and Pathology Share Calculation
Expenses
Track all expenses
Hostel Management System
Light weight, easy and Affordable Hostel management Software
Key Features
Room Management
Add, modify, delete and Allocate beds and occupants.
Bed Management
Add, modify, delete and Allocate beds and occupants to room and hostel/Dorm.
Tenant and Lease Management
Assign occupants, beds and rooms and manage payments and lease periods .
Payments and Reports
Manage individual payments and generate various reports on beds, payments and invoices.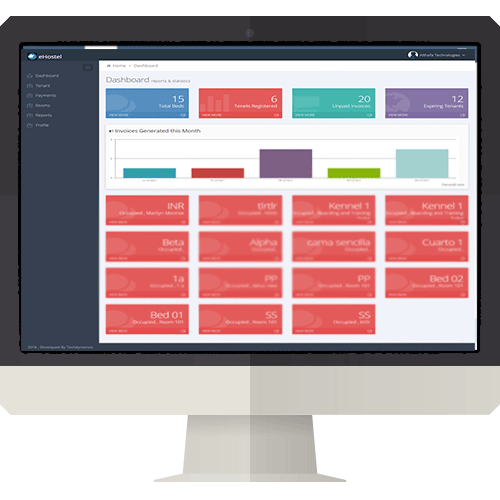 LET'S GET STARTED!
Need a quote on a re-design or a new project? Give us a bit of detail on your project and let us help!